"
Costume? Check. I'll probably need a mask too...
"
The Stargirl Suit is a protective suit used by Courtney Whitmore as the crime-fighting heroine, Stargirl. The suit disguises Courtney's identity, making it harder for her enemies to distinguish between "Stargirl" and "Courtney".
The suit initially belonged to JSA hero Starman. Courtney altered the suit to better fit her figure and needs. She also added a mask to the costume to better conceal her identity, something that Starman didn't use. The suit is usually seen in conjunction with her signature weapon, the Cosmic Staff.
Description
The Stargirl suit is a red, white, and blue colored suit that is used for fighting crime. The top is a textured, durable, blue, halter-top with long sleeves. There are three white stars sewn into both sleeves of the shirt. On the front of her top is a large white star. The collar of the shirt reaches the middle of her neck. The mask is of the same blue fabric used on the shirt and covers Stargirl's forehead and cheekbones. Around her waist, Stargirl wears a red leather belt with numerous compartments.
Her shorts are blue with thick white stripes on the sides and cuffs. The shorts reach her mid-thigh and resemble that of tight and curve-hugging workout shorts in their style. For footwear, Stargirl wears red, white, and blue platform boots. The sole of her boots are white and platform, with a blue base color, and red laces. There are white rectangles on both sides of her boots. Stargirl also dons red gloves that have a white star on the tops. She is usually seen with the Cosmic Staff.
History
In "Stargirl", Courtney is at the drive-in when she notices Henry King Jr. and his jock lackeys annoying moviegoers, much to her disgust. When they begin to harass another moviegoer, she wraps a bandanna over her face and ties her hair back. She sneaks towards Henry's car and using the Cosmic Staff to puncture his tires.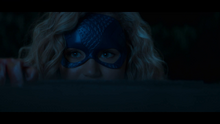 In "S.T.R.I.P.E.", Courtney learns that she needs to make a better super-suit if she plans to fight crime. This way, her identity will be better concealed and her family will be safer from the Injustice Society. She steals Starman's damaged suit from Pat's things and uses her high school sewing room to modify the suit for her body. She initially tries to cut through the suit with scissors but they break in half. She has to use a giant cutter to slice through the fabric. She succeeds in the end and manages to craft a new and improved Stargirl suit. She suits up for the first time before her first major showdown against Brainwave. Stargirl swoops in and saves S.T.R.I.P.E. from the villainous Brainwave, donning her super suit for the first time. She introduces herself as Stargirl and the robot as her sidekick. She wields the Cosmic Staff which towers over her. She battles Brainwave and defeats him. Despite being thrown around and attacked, the suit remains unscathed and in perfect condition, showing its durability in the fabric and design.
Owner
Appearances
Notes and Trivia
Courtney's "first" super suit is seen in "Stargirl" when she wraps a deep green bandanna around her face to conceal her identity. She also wears a blue hoodie over her hair.
The super suit is made from Starman's suit. Courtney stole it and used her school sewing class to modify it for a woman.
The Stargirl suit doesn't appear in two episodes after its introduction in "S.T.R.I.P.E.", only absent in "Brainwave" and "Shining Knight".
Behind the Scenes
When speaking on the difficulties of Stargirl's suit, Laura Jean Shannon, the Stargirl costume designer said, "Stargirl's suit might seem more simple and in some ways, it is. It does not have as many sculpted armor elements or other unconventional aspects, though those stars are hard to embed in that suit".[1]
LJ also said the burden of creating Stargirl's suit fell mainly on their tailor shop lead, Agnes Grzybowski. Agnes had to, "integrate super streamlined sculpted bits into a form-fitted midriff-baring top and shorts while still keeping the fit perfect".[1]
Brec Bassinger wasn't available to model for the concept art design, so designer Gina DeDomenico's sixteen-year-old daughter, who has a shockingly similar body type to Brec, took Brec's place for the design sketches.[2]
To make the suit, there were over ten fittings, body scans life-cast, and concept art to draw. The whole process took about six months.
Brec Bassinger believes that the Stargirl suit is the most functional one of the JSA, as she has supportive shoes, no-cape, and athletic wear. She noted that some of the characters had capes so they were always tripping over them on set.

She revealed that her suit was still tight nonetheless, so much so that when she took the top off, her arms would be marked from the stars on her sleeves.[3]
Gallery
References