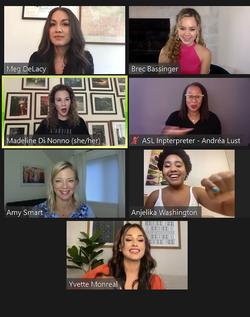 The CW Network and WBTV partnered with the Geena Davis Institute on Gender in Media to present a select group of fans an early-access screening of DC's Stargirl Season Two premiere, which aired on Tuesday, August 10 at 8:00pm ET/PT on The CW. A virtual Q&A with DC's Stargirl series stars Brec Bassinger, Amy Smart, Yvette Monreal, Anjelika Washington, and Meg DeLacy took place on Monday, August 9 at 4:00pm ET / 1:00pm PT.
Please note that some answers were revised for length or conciseness. A full video of the panel should be released soon and will be added for your viewing pleasure. However, the integrity of the answers remains intact.
Individual Questions
What attracted you to the role? What are we going to see from Barbara this season?
Amy: Superhero shows and movies are so popular. They spend so much money making these big epic shows and movies and sometimes they miss the boat on the human aspect. Amy was drawn to this because Geoff brings so much heart and soul into the characters and makes them more relatable. She loved how Barbara is trying to have a blended family. She finds a balance between her womanhood, mother, wife, and stepmother, and having a career. Also because it's Stargirl she supports her daughter now that she knows who Courtney has become with the responsibility. She wants to be supportive but also protective. She's part of the team now that the cat is out of the bag. It's fun to be in the know this season. She's still kinda gullible and doesn't fully understand everything that's happening, but is trying to go along with it. She loves playing Barbara as it's her first superhero show. She loves how strong and grounded the female characters throughout the show are.
How is Barbara different from the original series? (Fan Question)
Amy: She hasn't read all of the comics that Barbara is in, but thinks she has more heart in the show and isn't as tough as she is in the comics. She's been developed in a human way in the show. She was based on Geoff Johns's mom, so he brought so much heart to the show. It's loosely based on her, at least.
None of the other cast members knew that Barbara was based on Geoff's mother, or that she was named after Geoff's mom. In fact, Anj greeted Mrs. Johns as "hi, Geoff's mom!" the first time they met.
What are the challenges of being Stargirl while also part of this blended family? The darkness that is seeping in, talk about that.
Brec: In Season 1 Courtney dealt with the blended family aspect as that was a big thing for her. She had a lot of challenges and wasn't open to new changes. She blamed Pat for moving them across the country and away from her friends, her school, and being in high school that's a big change for Courtney. Brec did love the arc between her and Pat throughout Season 1. By the end, Courtney accepted Pat as this father figure. It was very well-deserved and they had to earn their respective roles as father and daughter. For Season 2, Courtney has to find a balance between her superhero life and her normal life. For the darkness, Cindy finds the black diamond and that brings on a bunch of stuff.
What was it like playing a character that was originally a white man?
Anjelika: She went in to meet Geoff and the writers and they were very transparent that some people would hate that her character would be a black woman. Geoff wrote it very specifically and she's grateful that he did. She feels connected to the original and new versions, as the comic version is a black woman with an amazing yellow suit. Anna Diop also got a lot of hate when she booked the role of Starfire in Titans and had to end her comments because of it. When they originally posted that Anj was going to be Dr. Mid-Nite they had to delete the initial post because of all the negative comments. She was disappointed but not surprised. The positive response has been a blessing for her. She feels so grateful and honored that people can relate to her and celebrate Beth. She celebrates Beth every day. She finds it amazing that Beth gets to keep her afro and loves when people tell her that live-action superheroes look like them because she didn't have that growing up. She holds a lot of responsibility and gratitude for that.
At what point is Beth going to tell her parents off for being selfish and taking Beth for granted?
Anjelika: I don't know. You'll have to watch and find out. She grows a lot this season and has a lot of character development. The relationship with her parents does grow a lot this season. They're growing everyone's growing.
Your character is complicated with a trope of a mean girl, but beyond the surface of that, the response is because of her childhood. Can you talk about the nuisances of bringing the dimensions into your character?
Meg: It is very complicated. Cindy's whole journey has been loss after loss. She's struggling with putting on this confident show but also feeling unloved. She enters this story on her own with no support system or family. Meg did a deep dive on the underbelly of what it feels like not to have anyone to go to for help. Cindy relies on herself a lot but is also a teen girl and doesn't have all the answers. Her going to Eclipso results in a big struggle between them. She's trying to find guidance within that. She had this dreadful past - of accidentally killing her mom when she was seven after losing control of her anger. She's just as lost as everyone else. She wants to find a family and team that gets what she's going through. She's jealous that the JSA gets along so well. She wants that but goes about it in a terrible way.
Can you talk about the rebirth of Yolanda as Wildcat and the family thread of her being rejected?
Yvette: Yolanda sought validation in Season 1 and always strived to be the best before - best grades, best social life. But in Season 2 she becomes a stronger version of herself. She has this huge secret she's hiding from both families - her found family and her real one. Since no one other than Courtney knows that she killed Brainwave, she feels alone in a sense. She dives deeper into her faith and religion because she doesn't feel like she has anyone to go to.
Group Questions
Question 1
If you could be any of the ISA/JSA members for a day who would it be? (Fan Question) Who would you recruit from the entire universe to be in your JSA/ISA? (Fan Question)
Amy: Would be Courtney because she wants to fly. She even has dreams about flying.
Brec: Wants to be Shiv because she wants to be the bad girl of Blue Valley and thinks it would be a good relief to play a mean girl.
Anj: Also Shiv because of the blades so she can slice people. She thinks that's really cool. Meg also gets to do cool stunts and it seems fun to be the evil mean girl.
Meg: Would be Dr. Mid-Nite because she can tap into a lab of information and already know everything. In Season 1 when Beth goes through the house and sees the backstory of everything she thought that was amazing as the goggles are a genius and so is Dr. Mid-Nite.
Yvette: Would be Eclipso because it was so fun to see someone who is the complete opposite of Wildcat and the way he went around doing things. His development was so fun and dark.
Question 2
Do any of you have anything special you do before filming or to get into character? (Fan Question)
The group consensus here was that they do a lot of jumping to get their energy up before a take.
Meg: Has a whole playlist of stuff. She has a Shiv playlist she listens to on the way to work. Some of it is depressing but a lot of it has artists Tommy Genesis and bad girl music.
Yvette: Listens to music too - she has a Wildcat playlist that can be changes depending on the different types of scenes she's doing that day.
Neither of them thought anyone else would be interested in hearing the playlists, but might post them on Instagram, as the hosts and moderators of the panel expressed an interest in them.
Question 3
How do you feel knowing that your heroes are inspiring women/girls to make a difference? (Fan Question)
Anj: Seeing young girls, especially ethnic girls, on TV is so inspiring. She used to watch Keke Palmer in True Jackson, VP and Raven from That's So Raven, so she understands what that feels like to see someone who looks like her. She can't think of herself as that because she's kinda basic but loves the idea of it. She sees it in the cast and the impact that the show makes. She loves the artwork and fan mail that they get. She tries to receive it as well as she can. She prays it never gets old. She thinks it's hard too accept that people find her inspiring because she's not that special. She's so grateful though.
Brec: Courtney as a character is inspiring because of her optimism. Brec takes things from Courtney all the time. Brec also thinks Barbara is the superhero because she balances being an amazing mom to someone like Courtney who doesn't make it easy, and being an amazing wife.
Amy: Having strong female characters that are so diverse is amazing. She thinks it's great to see Meg play a woman who takes her power and owns it. Everyone wants to both explore their dark side and do good in the world which is something that Stargirl does really well.
Meg: All these kids are going through emotions of teen life and personal issues, so finding them all in the middle is kind of interesting to see how everyone is trying to branch out and land at the end.
Yvette: It's one thing to have diversity in a show and another to have inclusion. A director said it best, "Diversity is being invited to the party. Inclusion is being asked to dance." Everyone has inclusion in this show.
Question 4
What comic storylines do you want to see adapted on the show?
Anj: She can't get on Insta without seeing #Hournite so clearly everyone is obsessed with them being together. They are married in the comics. She can't say that she hopes they will get married, or that she aspires to make out with Cameron every day. But she thinks the relationship is fun and just doesn't know where it's going!
Meg: She to see more of the Crock's because their dynamic is so fun and just playful. Seeing the dynamic between Pat and Barbara and the Crocks is fun. She likes watching two people raise a kid while being Type A. It just brings such a fun brightness to the scenes they're in. She wants a day in life of them episode.
Brec: Wants to see Courtney and Cameron's love affair explored. It's very complicated because of their parents but deserves to be explored more.
Yvette: Wants to see Shazam in the show but it has to be the same actor that played him in the film. She also wants to see that romance play out with Courtney and Shazam since it is in the comics.
Odds and Ends
The following information was either added randomly in the conversations or the result of the topic spiraling into something unrelated to the initial question.
When talking about stunts and how other superheroes like Javicia Leslie get to do their own stunts, the younger cast expressed interest in doing their own stunts, but aren't allowed too anymore. Anjelika wants to do more fun stunts as she hasn't had the chance to do many yet.

In the Season 2 finale, they let Meg, Yvette, and Brec do a hand-to-hand combat scene together.
In the Season 1 finale, Yvette tried to run like a cat on all fours, with Brec cheering her on as they thought it would look so cool to just do it. They didn't run it by production first and improved it. They soon realized Wildcat isn't actually a cat so it just looked weird. Yvette also fell multiple times.

Anjelika wants to do a crossover with Batwoman because A) she wants to go to Canada and B) she wants to properly meet Javicia Leslie. She and Javicia have been friends on Instagram for a long time and Anjelika even sent her flowers after her casting as Batwoman.
Nick Tarabay, who plays Eclipso, would do a chant before a scene to warm himself up. Being from theater he was used to doing vocal warmups and modified them for his role of Eclipso, to help him get into the darkness that is the character. These chants would inspire everyone else, especially Yvette.