The Justice Society of America Headquarters is the former haven and meeting spot for the Golden Age heroes of the Justice Society of America. It is now an abandoned shrine for their remaining artifacts and belongings.
History
During the Golden Age of heroes, several incredible heroes joined forced to form the Justice Society of America. They settled into a building that would serve as their main headquarters during their reign. They often discussed important matters in the headquarters, and it was one of the few places that they could be themselves. A circular table sat in the center of the room where each JSA member had a seat. On the walls around the table were full-length posters of each key JSA member. Dr. Mid-Nite's owl resided in the headquarters from approximately 1941 to the present day.
On December 24th, 2010, Pat Dugan was hunkered over his car ensuring that it was ready for anything. He was joined by fellow JSA member Johnny Thunder who, like Pat, had been benched in the mighty battle against the ISA. The men discussed being sidekicks as Johnny woes over being another mess for the JSA to clean up due to the Thunderbolt he wielded. Wildcat entered just then to call Johnny into action, as the ISA now had a complete roster with the addition of Solomon Grundy. Pat was also ready to jump into action, but Wildcat relayed Starman's orders that only team members were permitted to fight. He and Johnny left while Pat stayed behind. When the JSA was killed in a battle against the Injustice Society, Pat Dugan brought each of the JSA's important artifacts and suits back to the headquarters. They stayed sediment alongside Dr. Mid-Nite's owl until a new generation of heroes was ready to assume the fallen mantles.
Rooms
Meeting Table
Garage
Artifacts and Belongings
Taken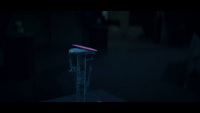 The Thunderbolt - Very little is known about the Thunderbolt, except that it is the most powerful artifact in the headquarters. It presents itself as a non-menacing pink ballpoint pen. When Courtney attempted to take the Thunderbolt it zapped her and made a laughing sound.
Current
The Flash's Helmet -
Helmet of Fate -
Hootie - This male owl, named "Hootie", is incredibly special and waits patiently for Dr. Mid-Nite to return from each of his missions. When Dr. Mid-Nite would arrive at the headquarters, the owl would fly and land on his arm perfectly. Pat Dugan remarked that he doesn't know what makes the owl special. The owl, however, doesn't know that Dr. Mid-Nite is dead and is still waiting for him to come home.
Appearances
Notes and Trivia
The headquarters is located in Civic City, which is a day-trip from Blue Valley, Nebraska.
According to Pat Dugan, every member of the JSA had a work room in the headquarters. The garage served as Stripesy and Starman's work area where they spent the majority of their time.
Gallery