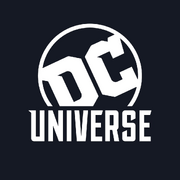 DC Universe is an American video-on-demand streaming service operated by DC Entertainment and Warner Bros. Digital Networks. The service includes original television programming, access to select animated series and films from DC's back catalog, a rotating selection of comics from DC Comics, forum discussion space, and a merchandise store.
It premiered Stargirl on May 18, 2020, sharing streaming rights and platforms with The CW, who airs the episodes the day after they premiere on DC Universe.[1] Stargirl was renewed for a second season by both networks, with DC Universe having sold platform rights exclusively to The CW.
DC Universe Infinite
Comics
DC Universe officially announced it would stop producing television programming and would rebrand to DC Universe Infinite, a comic book subscription service. According to the press release: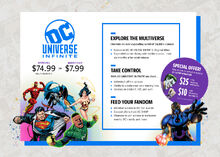 A premium digital comic book service set to launch on January 21, 2021. With access to more tan 24,000 comic books at launch, DC UNIVERSE INFINITE subscribers will also encounter digital-first comics, exclusive access to DC fan events, as well as a steady stream of recently released comics six months after the physical versions, hit store shelves. Following its initial launch, DC UNIVERSE INFINITE will begin expanding globally in SUMMER 2021.
DC's premium digital comic book platform provides members with an expanded collection of comics and Original Graphic Novels, spanning over 80 years of the DC Multiverse. Fans can also download comics, graphic novels, and originals for unlimited offline reading on their favorite devices from a smartphone or tablet.[2]
DC Universe Originals
For DC UNIVERSE subscribers who want ongoing access to premium DC originals, the special DC UNIVERSE monthly member offer to HBO MAX has been extended. In celebration of Batman Day and the announcement of DC UNIVERSE INFINITE, a special offer for eligible monthly subscribers to upgrade their service to include HBO Max for an additional $4.99 per month for a limited time is now available through October 30, 2020.
HBO Max will be the home for premium video content that will include new DC series, key DC classics, and DC UNIVERSE originals like Young Justice Seasons 1-4, Titans Seasons 1-3, Doom Patrol Seasons 1-3, and DC's Stargirl Season 1. Additionally, HBO Max has ordered a third season of Warner Bros. Animation's critically acclaimed DC UNIVERSE adult animated comedy series Harley Quinn, starring Kaley Cuoco, who also served as executive producer during the first two seasons along with Justin Halpern, Patrick Schumacker, Dean Lorey, and Sam Register. Harley Quinn will be a Max Original going forward, and all three seasons of the show will be available.[2]
Content
Former
References