Barbara Whitmore is a character in The CW and DC Universe series Stargirl.
Barbara is the mother of Courtney Whitmore, the wife of Pat Dugan, and the stepmother of Mike Dugan. With her daughter in high school, Barbara is diving back into the workforce but striving to balance workplace demands with the commitments of both matrimony and motherhood.
Biography
Barbara was born and raised in Blue Valley, Nebraska. She moved to California during her adulthood, which is around the time she met Sam Kurtis. They had a daughter together, Courtney, which is when Barbara settled into Valley Village, California. Sam was never present in Courtney or Barbara's life, leaving her to primarily be a single mother.
On Christmas Eve 2010, Barbara Whitmore waited impatiently at her house with her daughter, Courtney, waiting for Courtney's father to arrive. When he failed to show and Barbara had to work, she asked her longtime friend Maggie Kramer if Courtney could stay at her house for the evening. Maggie agreed happily and told Barbara that they are friends and she's happy to help. Barbara kissed her daughter goodbye saying that Maggie will watch her while Barbara's at work. Courtney understands but cries that she wants her father, which Barbara knows. She leaves for work while Courtney looks out the window waiting for a man that would never show.
In 2018, Barbara met Pat Dugan at Richie's Diner while visiting Blue Valley. They ordered the same food - a corn dog and banana split. They had an instant connection and were married two years later. After accepting a job in Blue Valley, Barbara, her husband, daughter, and stepson moved from California to Blue Valley.
Series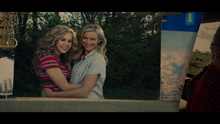 In the present day, Barbara is married to Pat Dugan and the newly blended family is packing up their California house to move across the country to Blue Valley, Nebraska for Barbara's new job. She takes notice of Courtney's agitation for the move and asks her to give Pat a chance. It isn't Pat's fault they're moving to Blue Valley, they made the decision together when the job opportunity presented itself for Barbara. She also adds that she grew up in Blue Valley and that Courtney will love it. The teen gives a forced smile and nod before walking off.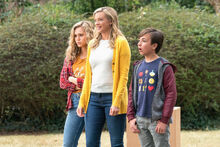 Barbara and her blended family later arrive at their new house, with her viewing the sight with happiness alongside her stepson, Mike. She is happy with the move and hugs Pat, who returns the sentiment until he sees movers handling a crate roughly. Barbara watches as she runs off to deal with the movers, then returns asking if they're hungry and should eat. Barbara is on board and nudges Courtney who feigns happiness. The family walks through the idyllic streets of Blue Valley when they come across Richie's Diner, which is where Pat and Barbara lovingly note this is where they met two years ago. They both ordered an ice cream sundae, even saying their orders at the same time as they recall the events. They laugh before Courtney asks what Pat was doing in Nebraska. Pat ominously replies he was looking for something, with Barbara noting that she was selling her mother's house.
The next night at dinner, Mike is excited to announce that he's made friends at Blue Valley Middle School and tells his father, Barbara, and Courtney about the video game he and his friends are designing. Barbara is excited for the boy and smiles as Pat agrees to let him go. She then asks if Courtney has any plans for the night with Mike quipping that she doesn't, which makes Courtney angry. Pat offers that they should go to the movies or explore the town, but Courtney snaps back that he isn't her father and leaves the table much to Barbara's protest. She apologizes to Pat once Courtney is out of the room.
When Courtney emerges from the basement later that night, she rushes to tell her mother about Pat's secret past. Barbara, however, is angry with Courtney for her behavior towards Pat. Courtney refuses to apologize as she tells her mom that Pat isn't who he claims to be. Barbara isn't interested in Courtney trying to blemish Pat, saying that he's exactly who she knows him to be. Courtney bluntly asks if her father was a superhero. Barbara resentfully tells her that her father only came to see her once a year, and disappeared when she was five, effectively abandoning them. Pat is the only man whose been there for them. If her father was as great as she thinks he was, he'd be here now, but he's not. Now calmed down, Barbara asks her daughter what she was saying before, but a remorseful Courtney changes her mind and leaves. They say goodnight to one another as Courtney walks away to her room.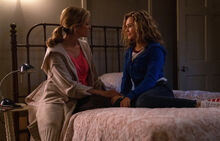 Barbara hears Courtney rustling around in her bedroom and knocks on Courtney's door asking if she's okay. Courtney wrestles the staff under her bed, ordering it to stay and she resumes her sleeping position as her mother enters. Courtney tells Barbara she couldn't sleep, giving Barbara the impression it's because of what she said earlier. She apologizes to her daughter for making the jarring move and just wants to make sure she's okay. She knows that having a new stepfather and stepbrother in a new town can't be easy. Courtney rebuttals that she's the one who's sorry as she hadn't given Pat a chance but she will try to now. Barbara is relived at Courtney's new mindset, and they bid each other goodnight again with a hug.[1]
Personality
Barbara is an intelligent and kind woman who values her relationship with her daughter above everything else. She cares for her family and is devoted to her husband and has a desire to grow closer to her stepson, even attending his science fair. She gets excited when her family dynamic begins to grow closer and is happy at the prospect of Courtney making friends or forming a relationship with Pat. Barbara is also dedicated to her work and doesn't hesitate to speak up when she has the opportunity and values a positive repour with her boss, Jordan Mahkent, and appreciates that she is becoming increasingly more involved in the company.
Barbara is also seen to be a maternal figure to Courtney's friends as she allows them to celebrate Christmas with her family, though it appears she is closer to Beth as she has spent more time with her.
Physical Appearance
Barbara is an attractive woman in her late thirties. She strongly resembles her daughter, Courtney. Barbara has shoulder-length curly blonde hair, blue-green eyes, pale skin, and a slim physique. She often wears light-colored tops or a bright shawl. Her clothes are both fashionable yet professional. She wears slim-fitting jeans. When going somewhere professional, she favors grey or black business jackets and dark dress pants paired with heels.
Appearances
Notes and Trivia
Barbara was unaware of her husband's past as a member of the Justice Society of America until "Brainwave Jr."
Barbara has only ever been addressed as Mrs. Dugan by Beth when Barbara was being mentally manipulated by Brainwave.
Barbara's one-sided relationship with Jordan can be seen as a parallel to Courtney's relationship with Jordan's son, Cameron.
Barbara was named after Barbara Johns, the mother of Stargirl creator, Geoff Johns. This was confirmed by Amy Smart during the Stargirl DC Fandome Panel.
Gallery
References
Community content is available under
CC-BY-SA
unless otherwise noted.